Natural beauty and well-being
from the inside out
The Revolutionary Proceanis Hyaluron to drink is active on levels unreachable by topical cosmetics. This award winning anti-ageing skincare drink uses the human body's natural process of absorption to refresh cells and wind back the clock naturally – sip by sip.
We are 67% water, hyaluronic acid binds this water and supports beautiful skin, healthy connective tissue and flexible joints. As we grow older our bodies produce less Hyanluronic acid and our skin starts to wrinkle and our connective tissue and our joints lose flexibility. Proceanis Hyaluronfiller restores your hyaluronic acid levels, renewing the skin elasticity for a glowing, youthful look. It truly is natural beauty from the inside out.
This groundbreaking technology is the first of it's kind available in Australia and New Zealand.




Winner of the German Beauty Award 2016
AS SEEN IN: Harper's BAZAAR
Anyone who drinks the beauty booster instead of just using creams, gets to the real depth and source of ageing, explains the plastic-aesthetic surgeon Dr. Afshin Moheb from Hamburg: "Hyaluronic acid is a carbohydrate and like other nutrients is broken down and metabolised before being absorbed. It then reaches the connective tissue cells (where it is formed naturally) through the blood stream". Read article – HARPER'S BAZAAR
In our press collection you will find more articles from various lifestyle, beauty and health magazines.
Our secret is the PROCEANIS® Hyaluronic Complex, which can be digested naturally because of its unique, well balanced molecular structure. This allows the moisture binding effect of the hyaluronic acid to unfold throughout the whole body renewing the skins elasticity and promoting healthy connective tissue and flexible joints.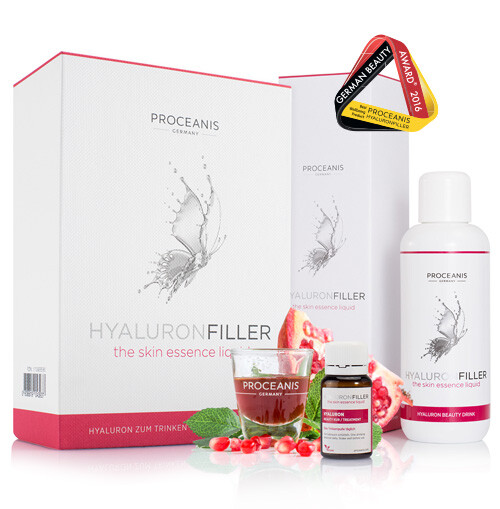 Proceanis® Hyaluronfiller
For natural beauty & well being
Daily skincare often stops at the surface, even though the secret to more beautiful skin lies below. The PROCEANIS® Hyaluronfiller made of hyaluronic acid and combined with skin nutrients and pomegranate takes effect where common cosmetics are unable to reach: It moisturizes the skin from within, evenly, over prolonged periods of time – day by day.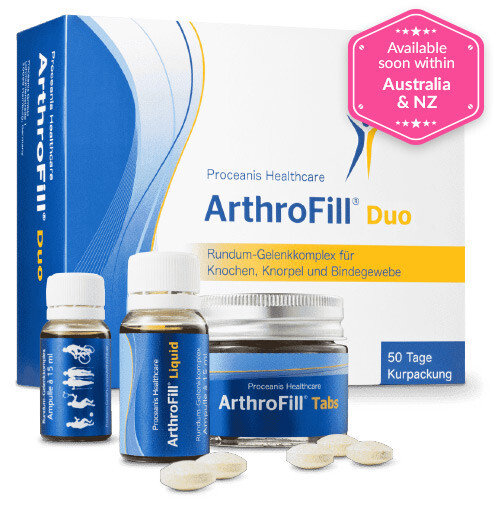 ArthroFill® Joint Complex
Nutrients for bones, cartilage & connective tissue
Healthy connective tissue and joint flexibility are essential for easy, pain-free movement. ArthroFill® combines our PROCEANIS® Hyaluron complex with 15 valuable cartilage building blocks, trace elements and vitamins to support healthy, flexible joints. ArthroFill® contains a high dose of hyaluronic acid , MSM, L-methionine and green lipped mussel.